CHANIA - OLD HARBOUR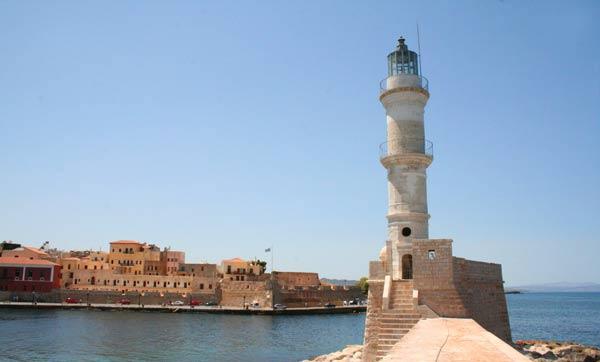 Welcome to Chania , a beautiful and picturesque city with reminders of the past at every corner. Chania is the main town in the west of Crete, with the second largest population after Heraklion. It is divided into two parts: The New Town which is where the day to day business of the Chania goes on, with its shops and offices, the post office and banks, the renowned indoor market and the bus station, and the Old Town, built around the Venetian harbour with numerous picturesque narrow streets and architecture showing the influence of decades of foreign domination. Recent excavations have established that the ancient city of Kydonia was located here also. The first thing a visitor sees when reaching the town of Chania is the Venetian harbour and castle (Firka fort).
The town of Chania will be the starting point, to familiarize yourself with the prefecture. The graphic seaside or mountainous villages have their own pace of life, the famous Samaria gorge, the steep White Mountains of Crete, the endless beaches of the Livikon Sea, the unspoiled seashores of Western Crete and the small islets make up this beautiful island. An island with wild, natural beauty, basking in sunlight and the blue sea captivates visitors from the first moment and guarantees further visits. Chania is the capital of the prefecture because of its geographic position and commercial activity. For many years was the governing centre of Crete and throughout history has been under Arab, Venetian and Turkish occupation. As a result, a blend of civilizations and unconquerable Cretan spirit make up this island.
Worth visiting:
The old town, around the Venetian harbour, where you can see many graphic homes and buildings from the Venetian period, giving the town a special atmosphere. It is also the centre of night-life with many bars and clubs. Don't forget to visit the lighthouse and Firkas fort where during the summer months, many theatrical performances and shows take place at the fort, which is also a Naval museum
Skridlof street, where visitors can find a great selection of hand made leather goods. This area also called "Stivanadika". The archeological museum, on Halidon street, has findings from all the prefecture of Chania.
The famous Municipal market of Chania "Agora" shaped in a cross, situated in Sofoklis Venizelos square.